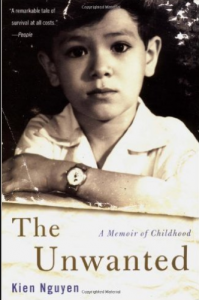 I had started writing the outline for Purple Python, the third book to the installment of the Hourglass Series. It will be from Jessica point of view, she is half Vietnamese, half American.
As part of my research into the horrors of the Vietnam war, I had watched Miss Saigon at West End in London. I had downloaded a book called Unwanted – A memoir of childhood by a Amerasian survivor of the Vietnam war. His chilling depictions of the final days before the last planes leaving Vietnam had lead me to shake my mind off it and write this post. My hair stood on ends when he wrote about how the last planes left the US embassy without his family in Vietnam when they lost the battle to the communist.
On hindsight, I am very very fortunate not to experience any horrors of war in my lifetime. My ancestors had made a good decision to depart China during the civil war and migrate to Nanyang and resettle to new unknown lands. They contributed to the community by teaching, volunteering at the clan association and resettling other families. They made contributions to the society at large by imparting Confucius ideology for a civil upright society.
Now, my generation enjoys global mobility and interconnection with the world due to technological advancement in communications and accessibility. I had the privilege to study in Australia and attain fluency in English as my native language. It was only in Australia I discovered about Vietnamese refugees and how they were referred to as "boat people" and how they risked their lives to go on boats to seek refuge in Australia. I was so insulated and I had no awareness that this existed till I traveled and was exposed to the world at large.
I am now using Alan Watt's "90 Day Novel" as my guide to write Purple Python as it has worked so for my first two books. It examines through the process of inquiry to building worlds and characters. A sentence that really hits me now is that, "the story lives fully within yourself." I had never believed in that, I had thought that the story is constructed outside myself. But now, I had discovered this sentence is true. The whole universe of the Scarlet Queen and Hourglass Series is existing within myself and through a process of rigorous inquiry, that it would be materialized in this world.
I am now on Day 5 out of Day 90. I will be on a cruise for a year end vacation with my family and friends in a large group including my grandparents. On the four day cruise with no internet connection, I will continue to be engaged in the inquiry as it says to "write daily and not stop".
| | |
| --- | --- |
| | AVERRAL writes under pen name Scarlet Risqué. She stars in Scarlet Queen YouTube with over a million views. She holds a degree in business. The RED HOURGLASS is ranked Top 50 Espionage Thriller on Amazon. She is currently writing the sequels to the Hourglass Series. Grab a free copy of her novel now RED HOURGLASS on Amazon |