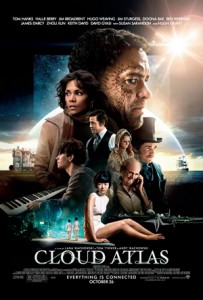 I watched Cloud Atlas (2012) four years ago. I know I have a habit of delaying my movie reviews, writing them years after I watched them. But that movie gave me the inspiration to become an author.
My interpretation of Cloud Atlas is that you will never know if you work of creation would indirectly be used to advance the human collective. It starts with a 18th century gay composer, wrote his symphony and committed suicide shortly after although he knew his lover was looking for him. In a dramatic twists and turns of the event, at the final futuristic scene of the movie – it was his symphony that lead to a rebellion and creation of a new world as it passes one time line to the next in different forms.
Cloud Atlas is hard to understand and digest, in fact it would be one of the most complicated movies to analyse after The Matrix and Inception. It fundamentally answers the question – what is the meaning of life, and what is it for the future generation?
In the Hourglass series that I write, I am attempting to contribute to the human collective through my research and writing in the espionage thriller genre. It seems insignificant and even foolish to dedicate my prime years to this task. I could otherwise be using the time to generate more income, assets and material acquisitions to better my lifestyle and travel more. But, to me it makes perfect sense as it would be the Hourglass Series that will stand the test of time and not my videos, audio or blog. It would be in novel form that it will be preserved and last a century or beyond.
But a thousand years? Maybe not. My cousin and I had a discussion that the history that we know a thousand years ago is mostly lost by now. Looking at how insignificant our human lives are, writing a novel is just a small feat compared to the contributions one can possibly make to humanity.
Cloud Atlas is one such contribution, it may not be fully understood now but it would be one of those classic movies that would be referred to be cited as a catalyst to something else a hundred years from now.
| | |
| --- | --- |
| | AVERRAL writes under pen name Scarlet Risqué. She stars in Scarlet Queen YouTube with over a million views. She holds a degree in business. The RED HOURGLASS is ranked Top 50 Espionage Thriller on Amazon. She is currently writing the sequels to the Hourglass Series. Grab a free copy of her novel now RED HOURGLASS on Amazon |