I had made changes to my diet depending on my productivity for the day. I would notice my food intake when I feel tired, and when I just switch off and can't think anymore. I have added bananas as my breakfast and seen that it prevents after lunch sugar crash. I would notice how my sleep is disrupted by the effects of caffeine if I had too many cups by the results of my Mi Band. The moment I feel tired about (5 -6pm) I would get up from my chair and go for brisk walking, do a dance workout and get moving.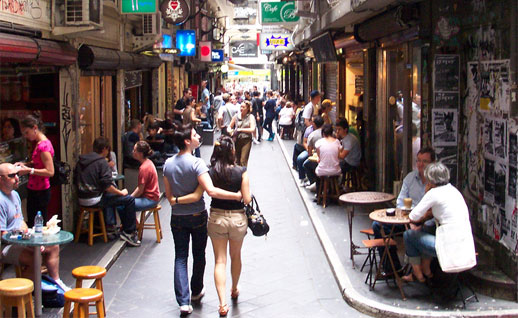 My conclusion is that our energy and productivity levels are influenced by what we eat. After having a rich yummy dessert with friends on Saturday, I crashed from the overload of sugar and was unable to exercise but sleep it off. I am on a no sugar diet, and any sudden intake of sugar = crash. Most food don't look appetizing to me after switching to this diet. I no longer have cravings for ice cream or chocolate. I find desserts too sweet, and when it tastes too sweet it gets disgusting and yucky.
My constant craving right now is for coffee. I guess I can't kick the caffeine habit after living in Melbourne. Melbourne was the cafe capital of the world and the coffee, even those at secluded alleys with no advertisements but a coffee machine – they tasted heavenly. The best coffee in Melbourne was a sandwich shop owned by an Egyptian near Little Collins Street. He had no signboards for his coffee but he sells hundreds of cups a day. I had noticed more people buy his coffee than his sandwiches for a strange reason. There was always someone queueing at the sandwich counter while he brewed a coffee. I had tried every coffee on that street and I made the jump for his. He revealed to me the secret of his coffee is in the beans, his beans are a special blend. He asked if I would like to buy his sandwich shop or recommend a buyer so he could retire.
The randomness of this experience opened me up to a whole new world of hidden coffee culture. I got myself a coffee Michelin equivalent guide to Melbourne and hunted down the top 10 cuppas in the city. I self-declared after that I am a coffee connoisseur after completing the guide and having my own rankings and recommendations for others. In my travels,  I am the on the hunt for a good cup of coffee. With the exception of China, where tea reigns supreme and dragon well tea is undoubtedly the finest green tea in the world – I am a caffeine addict.
As much as I had tried to kick the caffeine out of my life, it crawls back to my memories. My grandmother would make a tin pot of coffee using a sock as a filter as she poured the concoction from one flask to another. She would do this every morning before we woke up. My cousin and I drank coffee as kids. Everyone in the household was served coffee from the sock. The bitter coffee beans were from Malaysia and it the coffee was creamy with hints of roasted butter, condensed milk that gave a texture of sweetness and a strong aftertaste of milk. Drinking coffee reminds me of my nostalgic memories of my grandmother, who loved coffee and never drank water.
| | |
| --- | --- |
| | AVERRAL writes under pen name Scarlet Risqué. She stars in Scarlet Queen YouTube with over a million views. She holds a degree in business. The RED HOURGLASS is ranked Top 50 Espionage Thriller on Amazon. She is currently writing the sequels to the Hourglass Series. Grab a free copy of her novel now RED HOURGLASS on Amazon |